⭐FREE 🚚 IN EU from 50 EUR⭐
We understand the importance of quality ingredients, flavour and convenience
It's our everyday food that makes the biggest difference to our health and it's why we began formulating nutritious on-the-go products that are quick to prepare and save time for the more important things. Focused on wellness for over five years we've been discovering new flavour combinations, perfecting our textures and spreading the message. We believe healthy food should be nourishing, natural and engineered to fuel your body.
Quick to prepare
Our nutritious packs are super quick to make. For most, just add hot water or plant milk and they will be ready in a few minutes.
Packed with vitamins
Our recipes are meticulously designed with nothing artificial and only include the best quality ingredients that are packed with nutrients and vitamins.  
Made from plant products
All of our products are vegan friendly, made from plant power and whole ingredients keeping those vitamins locked in.
Keeps you full
The right nutritional combination keeps you full, and it's why our ranges are formulated with the right amount to keep you full for longer.
Travel friendly
Easy to prepare, and made to travel with, whether you're on a flight, or at work these packs are super light and tightly sealed for freshness.
Introducing our Veggie Chips
We are so excited to share with you our new organic veggie chips and crunches which taste amazing and have 30% less fat than normal chips. Indulge and feel good afterwards!
Best sellers
Discover our products that our customers can't get enough of
WHERE CAN YOU FIND MINDFUEL PRODUCTS?
You can find Mindfuel in several different locations.
Nutrition is in our DNA
Nutritious, energizing food should always be an available option. We create products packed full of what you need, which means making a decision to treat your body right is simple.
Treating our bodies right should always be an available option. We help you choose foods intentionally, to help improve your health and wellbeing.

We select whole, 100% organic ingredients that are free from gluten, soy, and dairy and are dried at low temperatures, which allows the nutrients and flavour to be preserved.
#BeMindfuel
If you're a foodie you ought to follow our Instagram, a place to see our products come to life and learn more about us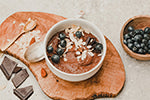 Follow us