Vegan Raspberry Cinnamon Smoothie boosted by Camu Camu and Chia (with Coconut milk)
prep time: 5 MINUTES
Today is not only Monday but also the last day of August. I would like to have a summer flavour smoothie: Raspberry and Coconut are my favourite summer flavours by far!
INGREDIENTS for single serving:
1 Rasperry Yochia SuperSnack (it includes raspberry, 15gr of chia, cinnamon and camu camu!)
250ml of Organic Coconut milk (or water)
1 tablespoon agave
3 ice cubes
Optional: 1/2 banana if you are a thick smoothie lover
DIRECTIONS:
Place all ingredients in the pitcher of your blender. Blend on low until all ingredients are fairly well incorporated, then blend on high until completely pureed, about 30 seconds. If you have a single speed blender, start and stop every 20 seconds up to reach the desired texture. Pour into your favourite glass and serve with a straw and, why not, decoration (fresh raspberries, blueberries or coconut chips). I usually blend the Rasperry Yochia SuperSnack with water and ice cubes and it is as tasty as the original recipe and lighter!
Enjoy with friends!
Love,
The Yochia Team
Read more
Comments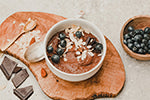 Follow us