Avocado and greens smoothie - B12 and protein bomb!
If you are looking for an alternative source of B12, protein, and iron, or simply a new smoothie recipe to start your day in a "complete" way, you can't miss this green smoothie:
Servings: 2
Ingredients:
- 1 avocado
- 1 DailyGreens Yochia SuperDrink (B12, iron, protein / essential amino acids, fibre and omega-3 - thanks to chia seeds, spirulina, chlorella, moringa, spinach, wheat grass, barley grass and mint)
- 6 ice cubes
- 15 to 30 grams of plant-based organic protein powder (ideally you can mix one part hemp, one part rice and one part pea - 5g to10g each; with this mix your body will have a wider range of amino-acids)
- About 6 goji berries as a topping
- 500 ml of water for a lighter version, or optional: plant based milk (natural almond milk is my favourite one in this case)
Instructions:
As with every smoothie, we start by adding liquids to the blender and then solid ingredients: water (or almond milk) followed by DailyGreens Yochia SuperDrink, plant-based protein, ice, avocado. Blend the whole mix for 60 seconds at a medium speed followed by 30 seconds at high speed (if you cannot regulate the speed of your blender, set 90-120 seconds). Pour into two glasses and decorate with goji berries...done! 
Share the love,
The Yochia Team
Read more
Comments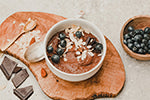 Follow us