Banana, Blueberries, Lucuma, Cashew, Vanilla, Coconut Chia pudding in 10 minutes!
This is a 10 minutes and easy recipe to prepare your chia pudding at home with only 3 ingredients. You will create a healthy snack with proteins, fibres, antioxidants, minerals, omega-3, omega-6 and minerals thanks to these superfoods: chia, lucuma, cashew and blueberries!
Single serving preparation
What you need:
- 30gr of organic blueberries
- half organic banana
- one Yochia VanillaCashew Supersnack (chia pudding mix)
Pour the contents of the Yochia VanillaCashew Supersnack in a bowl adding 60/75 ml of water (room temperature or warm) and stir it with a teaspoon for few seconds.
The Yochia VanillaCashew Supersnack is an organic chia pudding mix of chia, vanilla, cashew, lucuma and dehydrated coconut milk.
Cut the banana in slices and wash the blueberries. After 10 minutes check the consistency of the pudding after stirring one more time: depending on the hardness of the water it may requires few minutes more. Once the chia pudding has reached the desired texture, add the banana slices and blueberries. Your chia pudding is done!
In case you can find in your fridge some coconut or almond milk, you can replace the 60 ml of water with a plant based milk. You can add as toppings almonds, hazelnuts or anything you love!
Share the love,
The Yochia Team
Read more
Comments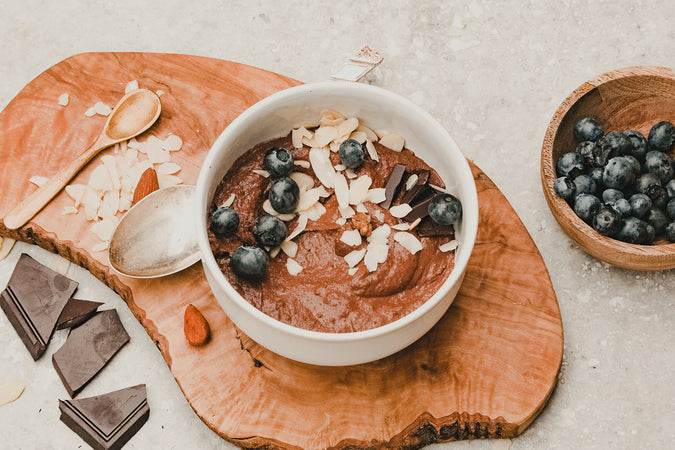 Follow us