Gluten-Free, Nutrient-Packed Raspberry Crumble Bars
I love raspberry crumble, especially the crumble part! They're also easy to make--but then then I look at the ingredients: sugar, flour, jam.... and realize that it's not so good. Sugar, sugar, and more sugar :-s
Here's a recipe for a raspberry crumble that's not only a whole, gluten-free, vegan, and not so bad for you, it's also highly nutritious! Eat it and you're better off!
Ingredients
5 sachets of Raspberry SuperSnack
½ cup brown rice flour
½ cup gluten free oats
½ cup almond flour
⅓ cup potato starch
⅓ cup coconut sugar
¼ teaspoon salt
¼ teaspoon baking soda
¼ teaspoon xanthan gum
¼ teaspoon ground cinnamon
⅓ cup coconut butter, melted
1 tablespoon vanilla
Instructions
In a bowl, mix the Raspberry SuperSnack mixes with water. Let it sit and expand for 10 mins.
Meanwhile in medium bowl combine brown rice flour, oats, almond flour, potato starch, ⅓ cup coconut sugar, salt, baking soda, xanthan gum, and cinnamon. Stir in melted coconut butter and vanilla. The mixture will be slightly crumbly.
Line an 8x8-inch baking dish with parchment paper, letting it hang over the sides.
Press a bit over half of the oat mixture into the bottom of the baking dish. Spread the raspberry "jam" (SuperSnack chia mix) over the top. Then sprinkle on the remaining oat mixture. This does not need to be pressed down at all.
Bake in 375 degree oven 45-55 minutes until top is lightly golden brown. Allow to cool completely then remove by grabbing the sides of the parchment paper and pulling the entire thing out. Cut into bars and enjoy.
Read more
Comments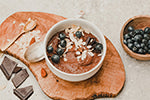 Follow us