Homemade Raspberry Chia Lemonade
Want to try a twist on the classic homemade lemonade? Try our version, adding a punch of antioxidants, omega fatty acids, micro-nutrients, and vitamins--making your refreshing drink into a nutrient powerhouse!
Also, why not try it as a morning detox drink to get your body running on all the important things right away?
Ingredients:
2 cups water (or coconut water)
1/2 cup fresh lemon juice
1 sachet Yochia Raspberry SuperSnack
Agave or other sweetener to taste
Directions:
Mix all of the ingredients in a pitcher. Let sit 30 minutes until the seeds form a gel consistency. Shake or stir before serving.
Read more
Comments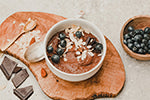 Follow us